Color Coated Aluminum Coil; Prepainted Aluminum Coil; PPAL

Thickness

0.2-1.5mm

Width

600~1500mm

Coating Surface

PVDF/ PE/ EOXY/ PU

Coating Thickness

Single Coating (4-20 Um)




Double Coating (25-28 Um)




Triple Coating (35-38 Um)

Alloy

1050, 1060, 1070, 1100, 1145, 1235, 3003, 3004, 3011, 3105, 5005, 5006, 5052, 5754, 5182

Temper

O,H12,H22,H14,H24,H16,H26,H18,H26,etc.

Color

All Ral Color or As Request

Type

Coil, sheet, strips, plate

Coil Weight

3-8MT

Coil ID

508mm and 405mm

Place of Origin

Shandong, China

Certifications

ISO9001

Applications

Roofing System and Ceiling Decoration for Airport, Railway Stations, Exhibition Halls, Factory and Stadium

Supply Ability

2000000 tons per year

MOQ

5 tons per size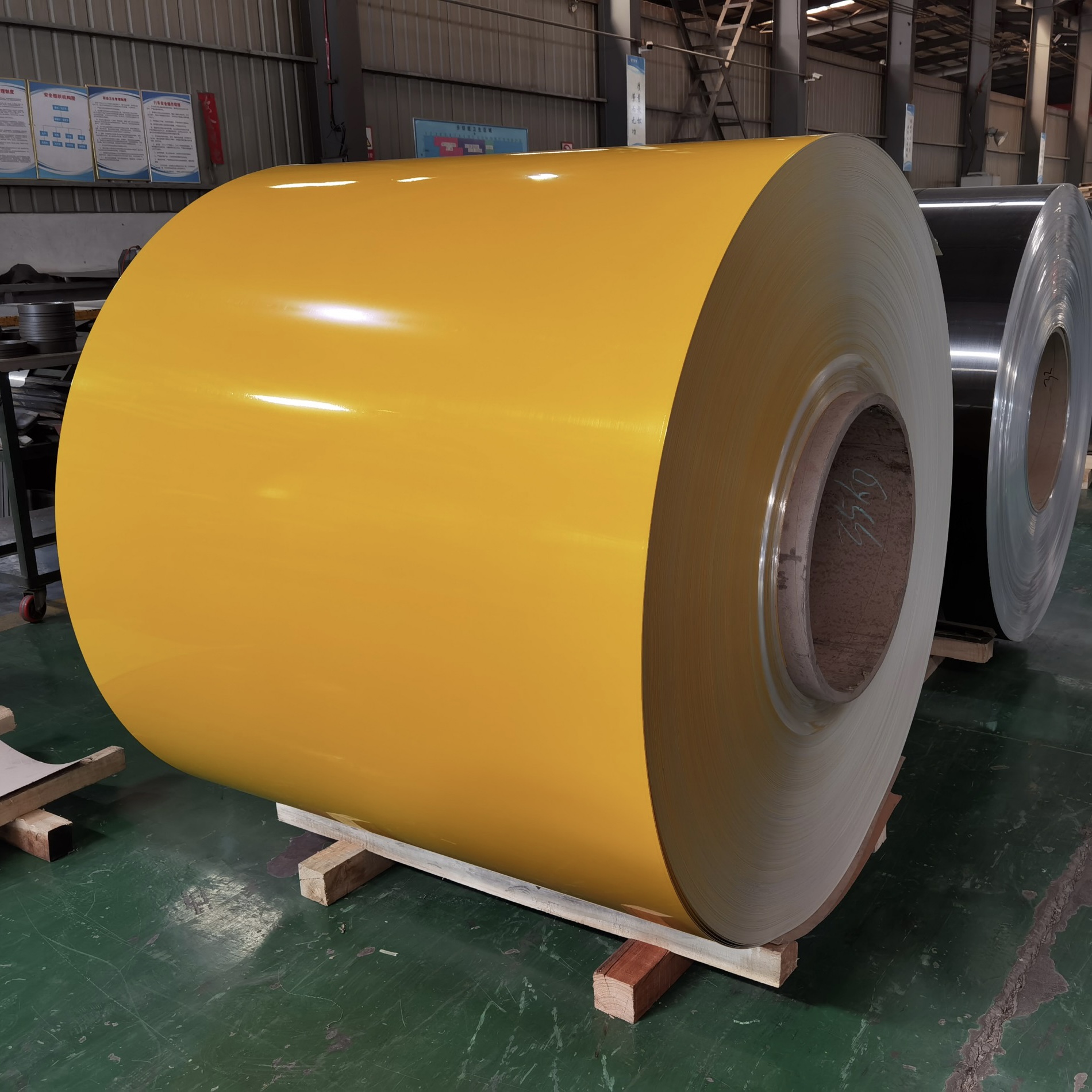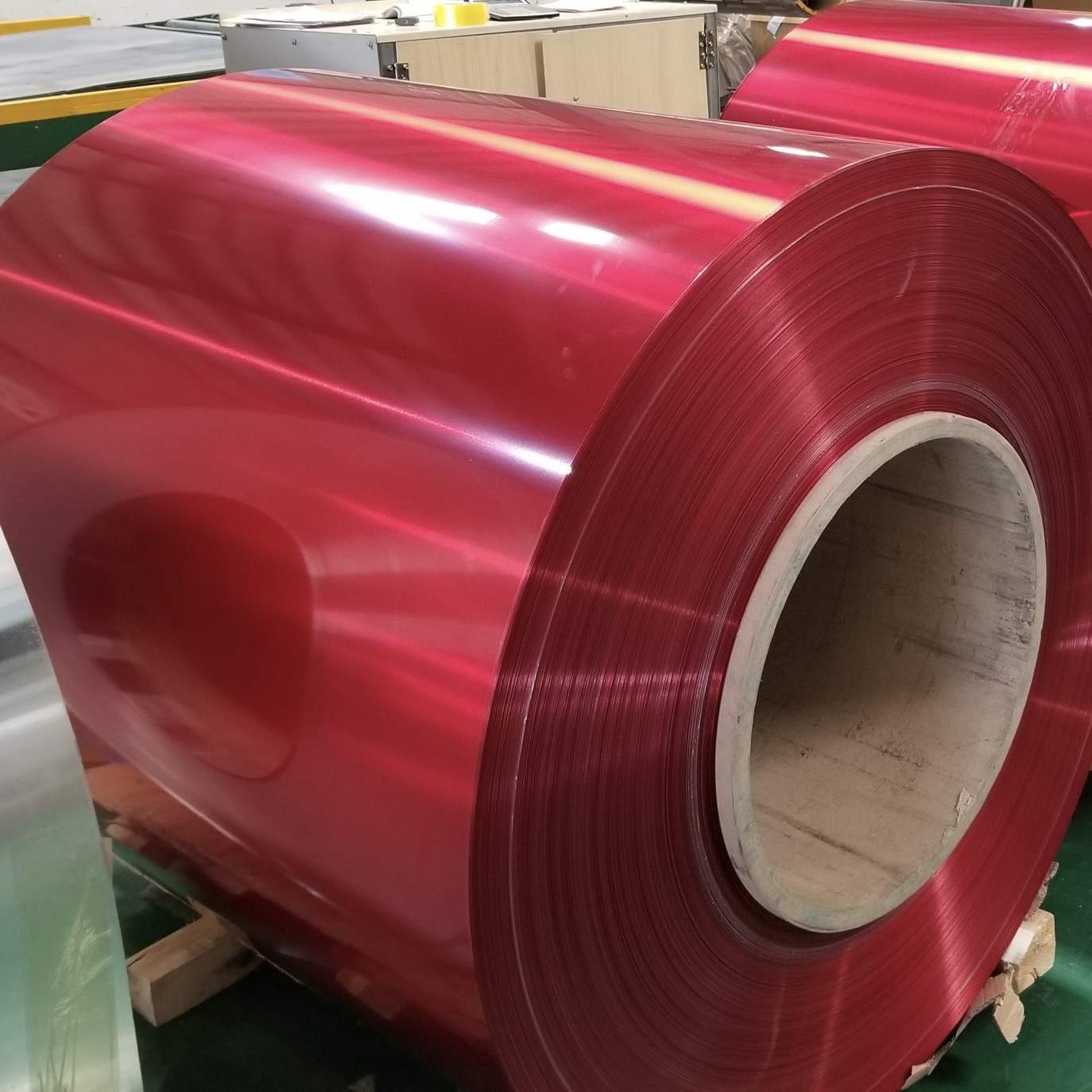 What is color coated aluminum coil?
Color-coated aluminum coils are color-coated on aluminum plates or aluminum coils. Common fluorocarbon color-coated aluminum and polyester color-coated aluminum are widely used in aluminum-plastic panels, aluminum veneers, and aluminum honeycomb panels. Aluminum ceiling, roof surface, leftovers, cans, electronic products. Its performance is very stable and not easy to be corroded. After special treatment, the surface can reach 30 years of quality assurance. The weight per unit volume is the lightest among metal materials.
The color coated aluminum coil is processed by washing, chromizing, roll coating, baking, etc., and the aluminum coil surface is coated with various color paint coatings.
Differences between Prepainted Aluminum Coil and Prepainted Steel Coil
| | | |
| --- | --- | --- |
| Difference | Color Aluminum Coil | Prepainted Steel Coil |
| Durability | 25-40years | 15years around |
| Weight | Density: 2.71g/mm3 Lighter, around one-third of Steel | Density: 7.85g/mm3 |
| Strength & Rigidity | In Middle Level, good enough for house construction | Better |
| Appearance | Much more smooth than steel | smooth |
| Anti-thunder property | Anti-thunder | No anti-thunder property |
| Tile forming | It has good welding property and keep physical property in low temperature | It has cold shortness. In low temperature, it is easy to break. |
| Cost performance | High cost performance. Light weight,water-proof, easy bending, good stereoscopic vision; | Weight is three times of aluminum; middle level water-proof property; |
| Recovery Value | High recovery Value, 70% of original value | No recovery Value |
| Feature | The meters per ton is three times longer than Steel; | Comparative cheaper price |
The Classification of Color Coated Aluminum Coil (Board):
The coating of the color coated aluminum coil can be divided into polyester coated aluminum coil (PE) and fluorocarbon coated aluminum coil (PVDF).
The difference between polyester and fluorocarbon coating (how to choose different coatings):
Polyester coating (PE):
It is a kind of anti-UV ultraviolet coating. The polyester resin is a polymer containing an ester bond in the main chain as a monomer. Ton acid resin is added. The ultraviolet absorber can be divided into matt and high gloss series according to the gloss. Especially suitable for interior decoration and advertising boards.
Fluorocarbon coating (PVDF):
It is made by mixing fluorocarbon resin with fluoroalkene as the basic monomer, pigment, alcohol ester solvent and additives. After baking at high temperature to form a film, the molecular structure in the coating is tight, and it has super weather resistance. Fluorocarbon coatings can be divided into traditional fluorocarbon and nano-fluorocarbon coatings according to the surface film-forming structure. Especially suitable for decoration and display of indoor and outdoor decoration, commercial chains, exhibition advertisements in public places.
Coating thickness: PVDF (fluorocarbon)≥25micronPOLYESTER(polyester)≥18micron;
Glossiness: 10-90%;
Coating hardness: greater than 2H;
Adhesion: not less than level 1;
Impact resistance: 50kg/cm, without peeling paint and no cracks. The color of Polyester can be used for 20 years, while fluorocarbon can be used for 30 years without discoloration.
The Characteristic of Color Coated Aluminum Coil :
Flatness: No composite high-temperature indentation on the surface. There is no residual stress on the board surface, and it will not deform after shearing.
Decorative: Coated with wood grain and stone grain, it has a realistic sense of real material and a fresh natural beauty. The patterns are made at will, giving customers a wide range of personality choices, which can enrich the humanistic connotation of products and give people more beautiful enjoyment.
Weather resistance: The paint pattern made by coating and baking at high temperatures has high gloss retention, good color stability, and minimal change in color difference. The polyester paint is guaranteed for 10 years and the fluorocarbon paint is guaranteed for more than 20 years.
Mechanical: The use of high-quality aluminum, plastics, and adhesives, using advanced composite technology. The product has the bending and bending strength required by the decorative board. In the four seasons, the changes in wind pressure, temperature, humidity, and other factors will not cause bending, deformation, and expansion.
Environmental protection: Resistant to salt and alkali acid rain corrosion, it will not corrode and produce poisonous bacteria, does not release any toxic gas, does not cause corrosion of keel and fixed parts.
Flame retardancy: not less than B1 level according to national regulations.
The advantages of Color Coated Aluminum Coil:
1. Light texture, easier to shape
2. Corrosion resistance Because it has a tight oxide film on its surface, it has strong adhesion, oxidation resistance, acid resistance, alkali resistance, corrosion resistance, decay resistance, and ultraviolet resistance.
3. Good temperature resistance, the melting point of aluminum is 660 degrees, the general temperature can not reach his melting point
4. The board has extremely high strength, which can be cut, slitted, balanced, drilled, connected, fixed and compressed at the edge.
5/5 - (16 votes)
Application
Coated aluminum coil and sheet are used in Roofing System and Ceiling Decoration for Airport, Railway Stations, Exhibition Halls, Factory and Stadium